Have you ever written a review on
Yelp
? Because if so, they might owe you some dolla bills.
APPARENTLY there are some people in California who think that their fervent writing of Yelp reviews means that they're Yelp employees, not contributors. They claim that the website is so successful because of their reviews, which is somewhat true. Apparently, there's a whole Yelp hierarchy where you earn points and status with every review that you leave, and there's a subgroup of "Yelp Elite" member. Yelp provides perks in lieu of monetary compensation to these people, and apparently that's what they're so angry about. Perks may include badges, social media promotion, free food and free liquor. Wait.... this is a problem? You're pissed about free booze?
Here's what

:
is there something in the water lately? What is with all the "BUT I
AM
AN EXPERT! I
AM
A WRITER!" special snowflake garbage? Whether or not Yelp contributors should be considered employees (they shouldn't), the entitlement here is astounding. No one forced you to write Yelp reviews until your fingers fell off, and no one pressured you to write a misleading review except for yourself. If you don't like the way Yelp handles their reviews, stop leaving reviews there. And DEFINITELY stop calling Yelp a "slave ship." Are you FOR REAL? You remember ACTUAL slavery, right?
Rejection. We've all felt it.
One of my favorite bloggers,
Rachel
, wrote the best article on rejection and what she's learned from it. She discusses the feelings we've all felt at some point in our lives, whether it was professional, personal, or somewhere in between. Rejection is hard, and sometimes, learning something from it is even harder.
Here's what:
It seems like every article written by a millennial lately has been some defense of "this is why we are the way that we are." While that's all well and good, at some point you have to stop talking about it, and start
being
about
it
, and that's exactly what Rachel does. Accept the facts as they've been given to you, figure out how you can use them to better yourself, and move on.
Do you call yourself a feminist?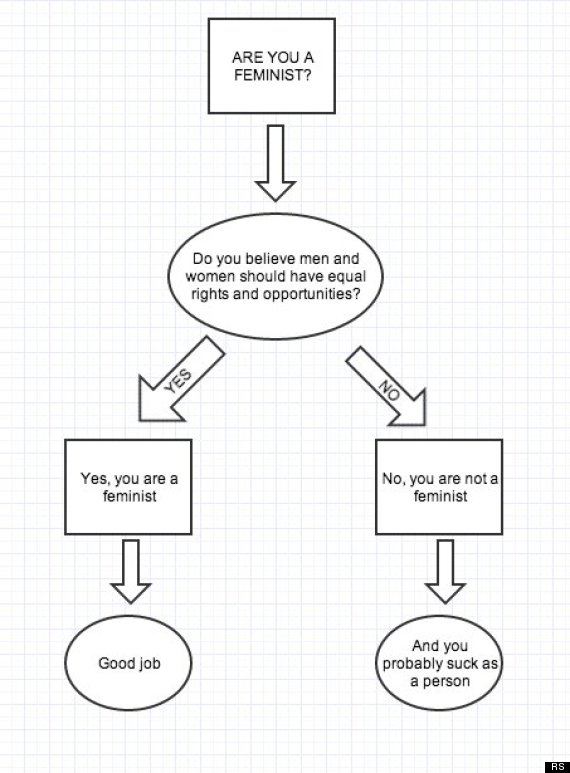 Recently, Kelly Clarkson stated that she didn't identify as a feminist because she thought the word elicited negative feelings in people, and quite frankly, it's something I felt like I could relate to.
It's hard to identify as a feminist when there are radical organizations like Femen who don't represent REAL feminism at all. But that's the dichotomy that most people get stuck in pretty often, right? Identify as something, get associated with the absolute worst parts of that thing, and then.... what do you do at that point?
Here's what:
if the singer behind a song called "Miss Independent" doesn't feel comfortable identifying as a feminist, there's a problem, right? Feminism is incredibly misunderstood and often used as an insult. (Do NOT get me started on Rush Limbaugh and the term "feminazi.") But what do we do about that? How can we teach people that being a feminist is a GOOD thing? That we're not all man hating, bra burning, 'I don't need no man' crazypeople? I value my independence a great deal, but that doesn't mean I don't love coming home to a man I'm very deeply in love with. And why shouldn't I love that? There's no reason it has to be one or the other.