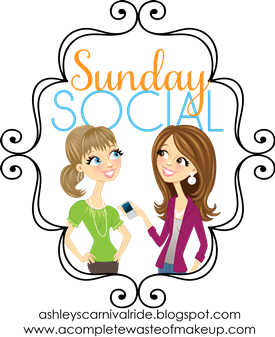 I decided to link up for Sunday Social today, just to switch it up a little bit! Also because it's about your pet peeves, and I loooove complaining about stuff.
1. What is your biggest driving pet peeve? At stoplights, when people pull way past the stop bar. That huge white line is NOT A SUGGESTION, people.
2. Biggest Blogging pet peeve? Any posts about what you're pinning on Pinterest. Sorry, but I hate them. If I want to know what you're pinning, I'll go look at your Pinterest. (This doesn't include pins that you've actually done yourself. I love those posts.)
3. Biggest general pet peeve? People who don't get the "if you don't have something nice to say, don't say anything at all" philosophy. Just shut up, man. You don't need to insert your opinion on every little thing. Ya dig?
4. What is your most irrational fear? I'm always afraid my car is going to explode when I start it after I'm done pumping gas. I don't know where it comes from, but it's always freaked me out.
5. 3 celebrities you'd want to have dinner with? John Krasinski, Jennifer Lawrence and Stanley Tucci. How's that for variety?
I have a separate post planned for today about my dad, but I can't find any of our good pictures, so that's on hold for right now. I hope you guys all have a great Sunday!